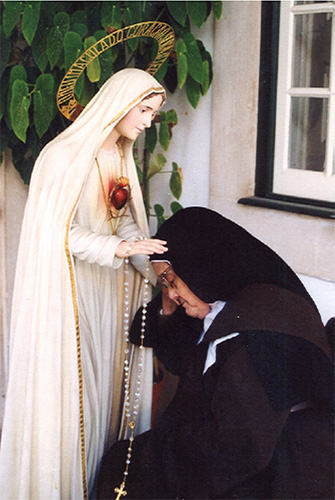 Apostolate of personal and community: conversion, consecration and prayer
Living the Fatima Message formed in the summer of 2016, in anticipation of the centennial of the Fatima apparitions and Our Lady's message of peace for the world. Our aim is to spread awareness of Our Lady's message and requests, and to encourage and assist the faithful to respond to this urgent appeal from Heaven, personally and in community.
We would love the opportunity to help you answer the call of Our Lady of Fatima by offering your parish, school or organization our brief Prayer Program:
Listen to a presentation revisiting Our Lady's peace plan to convert hearts and the world
Pray the Holy Rosary
Venerate Our Lady's image and present her your private petitions
Discover how to share the Fatima message
Most Catholics have perhaps heard of "Our Lady of Fatima". Many know she is the Blessed Virgin Mary, and that she appeared to three shepherd children in Fatima, Portugal, in 1917, near the end of WWI. Those who know history may realize that her final appearance on...